Registration as an operator
In accordance with section 66a(3) of the Civil Aviation Act (LuftVG), the operator of a UAS is obliged to register as an operator if the drone to be operated weighs more than 249 g or is equipped with a sensor to collect personal data, such as a (video, photo, infrared) camera, microphone etc..

Registration as an operator serves to clearly identify the drone operator. After successful registration, the drone operator is assigned an electronic identification number (e-ID) to be affixed to every drone operated by the registered person or institution. Only one e-ID is issued per operator.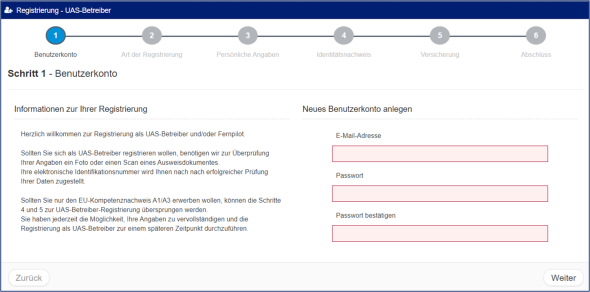 Registration as an operator in Germany is only possible via the online form (German only) provided by the Federal Aviation Office (LBA) and is subject to a fee. The fee per registration is 20.00 euros for natural persons and 50.00 euros for legal persons (status 15.02.23).
Further information on registration as an operator can be found under 'Registration and qualification'.
Registration form of the Federal Aviation Office:
Online form for registration as an operator (German only)